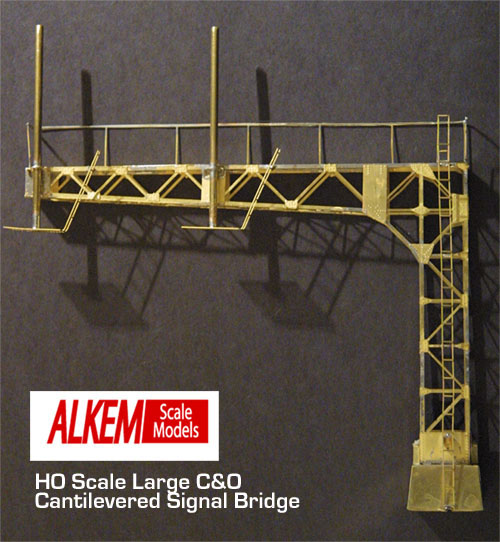 Cantilevered Signal Bridges
HO Kits sold out. Discontinued, however, special orders for bulk purchases might be possible. Contact me if you want more.
Used by the Southern RR and C&O Railway, these signal bridges controlled traffic on many of the main lines.
We offer the small and large style signal bridge in N scale and the large style in HO scale. The N Scale kits include improved brass tooling and laser cut acrylic pedestals.
The models are made with photo etched brass. You can download a color copy of the instructions here. The kits can be soldered or assembled with CAA glue.
No signal lights are provided in the kit. The N Scale model comes with several etched brass targets without hoods.
Materials:
Photoetched brass
Dimensions (Approx):
L 2 in. / D 2 in. / H 0.010 in. (N)
L 4 in. / D 4 in. / H 0.010 in. (HO
---
HO Scale Large Style Cantilevered Signal Bridge sold out