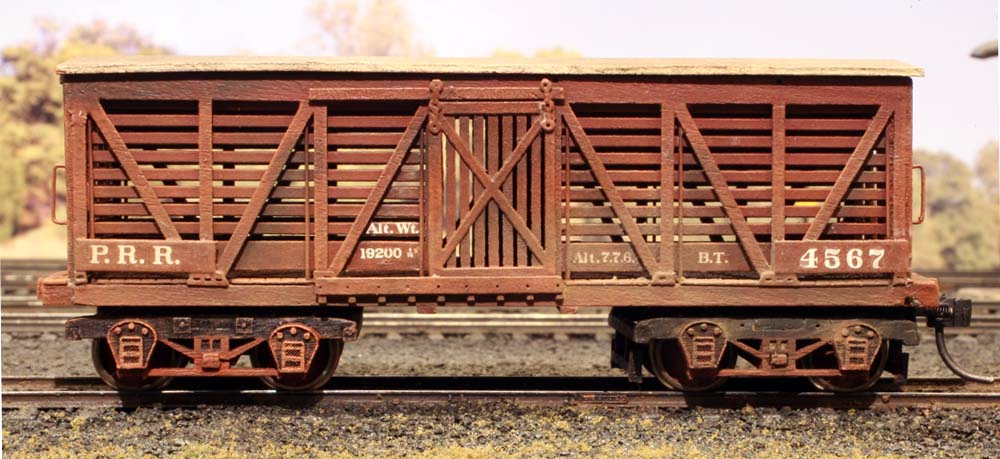 DISCONTINUED NO LONGER CARRIED
Cattle Car
This laser cut wood kit is an HO scale model of a28 ft Cattle Car. The model is based on the PRR 1863 Cattle Car shown in White's book, "The American Freight Car." This car was later updated and becamethe PRR Class KA Cattle Car. The kit includes the parts necessary for the upgrade for those that want to model the later version.
The kit uses tabs and slots to simplify construction. The photo below shows the car before the roof has been added.
The kit includes wood-frame, swing-bolster trucks appropriate for this car in the 1863 version. We will also offer these trucks separately. For later KA Class version arch bar trucks are appropriate.
Wheelsets are not included. The trucks are designed to accept Branchline 33 inch, code 88 wheels or comparable Kadee wheelsets.
Also included are two link and pin coupler boxes (pins and links not included). While the couplers are functional, they are intended primarily for display and not layout operation due to their small size.
A set of decals for the various PRR versions is also available (order separately).
Materials:
Laser cut plywood, resin board, and brass wire
For larger color images and more details on the kit download the full color instruction manual by . This is a 10MB file, so a broadband connection is recommended.
Dimensions:
L: 3.9 in. / D: 1.1 in. / H: 2 in. (HO Scale)