R&S Concrete Coal Dock -Sold Out. Thank you for your support.
Based on a standard design by Roberts and Schaefer this HO Scale concrete coal dock will enhance any engine service terminal. Originally built during the steam era to fuel and sand steam engines, many of these concrete structures still stand, some in use as sand towers.This model includes the optional Central Vermont logo engraved on one side for those that wish to model the coal dock at White River Junction. The engraved logo can be placed facing inward if you wish to model a plain wall. We can also custom engrave any logo you wish for a small extra charge. Please contact us at info@alkemscalemodels.com for more information.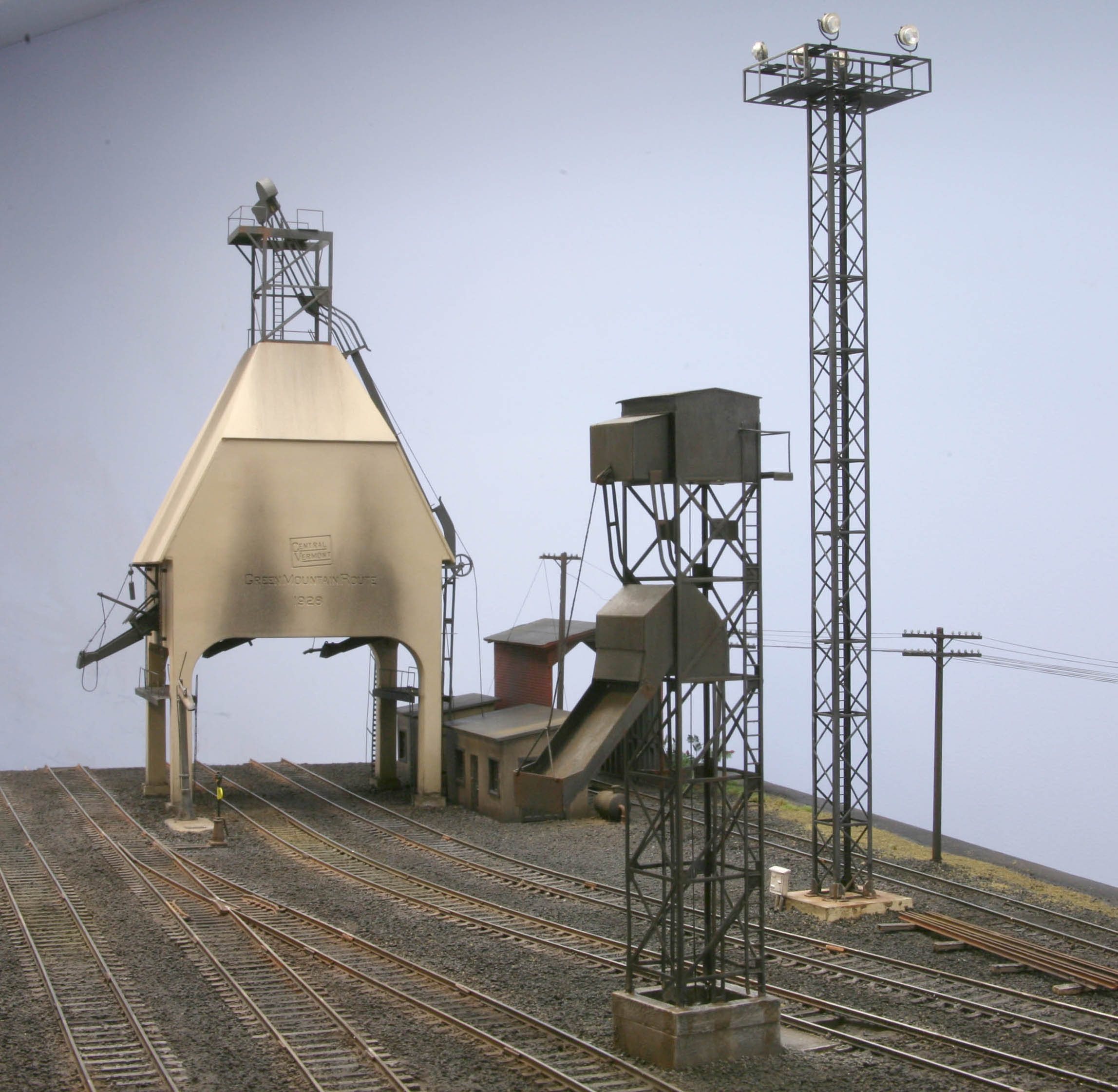 This fine scale multi-media HO Scale kit includes laser cut acrylic parts to simulate the concrete structure, 3 sheets with a total of 216 square inches of photo etched parts, four sheets of laser cut wood parts, several pieces of brass wire and rod and a fully illustrated, 15 page instruction manual. To see the fine quality of this kit and our instruction manual, please click here to download a high resolution color copy of the instruction manual in pdf format. The manual is a 18.0 MB file so a high speed internet connection is recommended. It is full of more information about this exciting kit including prototype photos, detailed drawings and color photos of the model under construction.
The laser cut acrylic parts glue easily together with Plastruct ABS cement, creating a precision base structure. The etched parts add a level of fine scale detail. They can be glued or soldered. This kit is revised compared to our N scale kit to include new prototype information and additional detail.
This kit includes a super detailed, fine scale model of the Roberts and Schaefer Cinder Conveyor as shown above. This kit alone is over a $50 value and is included in the coal dock kit.
Materials:
Laser Cut Acrylic & Plywood
Photo etched brass
Dimensions (Approx):
L 6. / D 6 in. / H 14 in.
HO CV Coal Dock $239.99 Sold Out .